Avontuur Baccarat 2017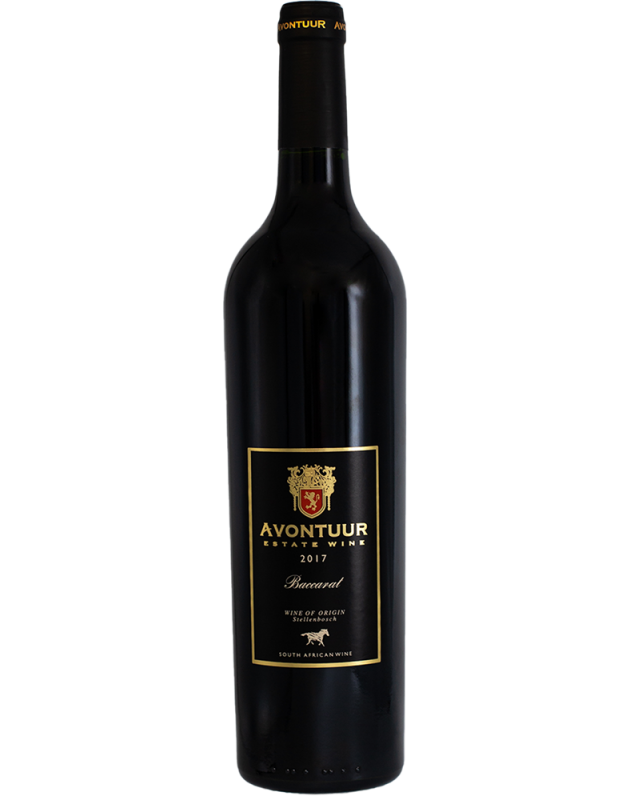 Avontuur Baccarat 2017
Beautiful dark red plummy fruit on the nose with nuances of spicy sandalwood.  A slight minerality promises complexity and development as the wine ages. An elegant mouth-feel displaying juicy red fruit, cassis and hints of herbs on the palate. The tannins are finely structured and integrated with a slight grip which smooths out on the finish. The wine has a youthful balance.
Technical Analysis
alc
14.5
rs
2.6
pH
3.6
ta
5.9
Wine Information
Accolades
Brand Group
Avontuur Premiere Range
Other

This is the10th release of our Flagship wine in the history of the Estate. It is an example of a Left-bank Bdx style blend. For the first time it is driven by Petit Verdot and Cab Franc (from our previous releases, 4 were Cab Sauv based, 3 were Merlot based and 2 were dominated by Cab Franc). This is a wine of many layers and nuances, it will develop well with ageing and we trust that it will bring joy to your palate again, as always. This limited release has been a labour of love and passion.

Winemaker
Jan van Rooyen
Variety
Blend - Red
BlendPercent
Petit Verdot 55%, Cabernet Franc 31%, Cabernet Sauvignon 7%, Merlot 7%
FoodSuggest

Perfect with red meat, roasts and substantial vegetarian dishes. Also pairs well with matured hard cheeses like Cheddar, Pecorino and Gruyere.

Ageing

Drink now or over the next 7 years from bottling. Potential for a vinothéque classic.
Range:

Avontuur Premiere Range